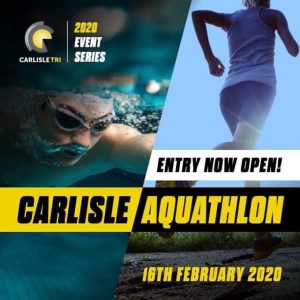 CARLISLE AQUATHLON – Sunday 16th February 2020
The team at CTC towers can't hold in their excitement any longer! It's time to announce our brand new event for the 2020 series… Carlisle Tri Club Aquathlon (Sprint: 500m Swim, 5k Run) on Sunday 16th February.
Fancy a new challenge? Could 2020 be your year to achieve big? What a great way to enter the world of multi-sport with this beginner (and pro) friendly Aquathlon held up at the Richard Rose Morton Academy. Our four event series all leads to our flagship triathlon in August… this could be your year to 'Tri' something new!
Entry will open soon so watch this space for the entry link and further details… spaces are limited so don't miss out!
Date: Sunday 16th February 2020

Location: Richard Rose Morton Academy, Wigton Road, Carlisle, Cumbria CA2 6LB.

Registration: Open from 11:00 to 12:00 in the registration room. BTF members MUST show their license or pay a levy.

Race safety briefing: Mandatory race briefing 12:20. First swim wave 12:40.

Race start: Waves will be grouped according to ability with the first wave starting at 12:40. Waves will be in groups of twelve. You will be given a start time at the pre-race briefing and it will be printed on the information board. It is your responsibility to be present 10 minutes prior to your wave start time. To enable us to have the best chance of grouping you with swimmers of a similar ability please don't guess your estimated swim time. Give yourself an extra training session and get down to the pool and time yourself.

Parking: Parking will be inside and outside the school grounds.

Facilities: Toilets for both male/female are available.  There will be no indoor spectators for the swim heats therefore wet weather clothing may be required.

Risk assessment: A full course risk assessment will be on display at the event HQ on race morning together with details of the liability insurance and British Triathlon registration.
Terms & Conditions
By entering this event you agree to the following terms & conditions:
I accept this event is run under British Triathlon rules and conditions and I agree to acquaint myself with and abide by those rules and any organisers instructions. I understand that it is the competitor's responsibility to navigate the course and that it is my own sole responsibility to safeguard such clothing and equipment as I may use. I know of no physical or medical impediment that would render my participation in this event undesirable. I understand and agree that I participate in this event at my own risk and that no liability whatsoever shall attach to the event organiser, the race referees or any person involved in the event organisation, for any injury, accidents, fatality, illness, loss or damage suffered by me in, or by reason of the event, however such may be caused. I understand that it is my own sole responsibility to obey the Highway Code at all times during the course of the event. I understand fully that taking part in events on the public highway is not without risk and the organisers, whilst taking reasonable steps to reduce risk, cannot guarantee my safety.
Any queries should be directed to the club secretary at hhods@aol.com or Heather Rowe at 01228 532659 or 07749 772169.